Most modern-day families and hikers prefer to head to Chimney Tops and Cades Cove in the Great Smoky Mountains. Greenbrier is quieter, but still an easy hike for younger children who may not last more than a couple of miles. A two-mile hike after the road ends brings you through the old Greenbrier community that was once thriving in this area. You will see rock retaining walls that haven't crumbled yet. At the top of your hike, you can follow a path that is home to the last structures from the Greenbrier community. Here you will find a house, barn, and stream house where the stream running through it kept butter and other products cool. Where hundreds used to live, now only one family's former property stands.
In spring, the Greenbrier area of the Great Smoky Mountains National park is renowned for its wildflowers. The drive to the Ramsey Cascades trailhead provides good wildflower viewing from your car, while the Porters Creek Trail makes a good wildflower walk.
To hike Porters Creek, follow the signs to the trailhead of the same name. Good displays of wildflowers can be seen along the first 1.5 miles of trail. Wildflower displays generally start in March and peak in mid to late April. Seasonally you may be able to see a lot of butterflies of every variety.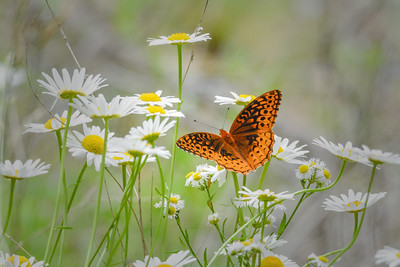 Ramsey Cascades is another popular trail in the area with good wildflower viewing opportunities. From the trailhead, it's 4.0 miles to the cascades, which are the tallest in the Smokies.
Six miles of mostly gravel road follow the river and its tributaries into the upper Greenbrier area. Bicycling is permitted on Greenbrier roads but is prohibited on all trails.
The Greenbrier Picnic Area is open year-round.
Trout fishing is open year-round. Anglers need either a Tennessee or North Carolina fishing license.
To get to the Greenbrier entrance to the park, take US-321 six miles east of downtown Gatlinburg.
Distance
from Gatlinburg—6
Note: currently Grassy Bridge Road bridge is out and there is a detour needed.
From Ridge View Lodge - 3
From Appalachian Escape - 5