The Island in Pigeon Forge
The Island in Pigeon Forge
is your one-stop for family fun all night and day! This shopping and entertainment complex with more than 60 retail and specialty shops, lots of restaurants, eateries, rides, games, dancing fountains, live music, attractions, and more. And of course, there is the Great Smoky Mountains Wheel! Towering 200 feet-tall LED illuminated Ferris Wheel is the centerpiece of the Island in Pigeon Forge, it stands as one of the tallest attractions in the Southeast!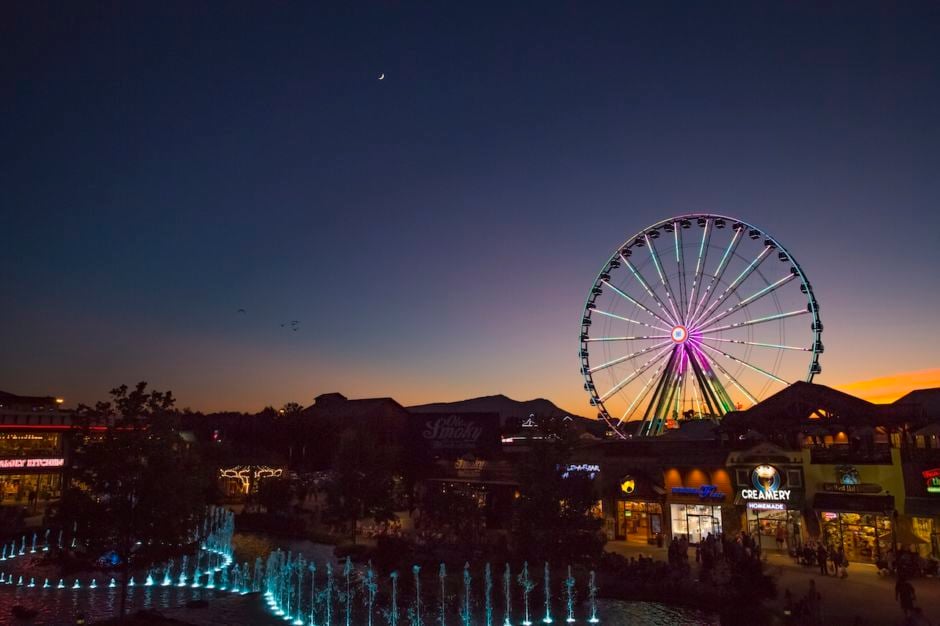 Dollywood
Dollywood
theme park in Pigeon Forge does not need an introduction as it is well known in and out of the state of Tennessee. We like Dollywood's warm, relaxed, and less hurried atmosphere, natural setting, and, of course, the Dollywood Express train ride. We traveled to Alaska in 2015 and took a ride on a White Pass & Yukon Route Railroad train from Skagway, Alaska to White Pass. The narrow-gauge railroad was built in 1898 during the Klondike Gold Rush. Dollywood Express # 70 was built in 1938 and operated on the White Pass until 1963. She was sold to Silver Dollar City TN in 1977 and became known as Cinderella, was undergoing a rebuild and in 2010 went back in service. How's that for a historic connection?
Anakeesta
This Gatlinburg
attraction
offers a unique outdoor mountain experience for all ages. Begin with a scenic 12-minute ride from Downtown Gatlinburg to the summit of Anakeesta mountain on the quad chair or enclosed 6-person gondola cabin. Arrive at Firefly Village, a treehouse-themed village featuring local crafts, retail, and casual dining options. Take a scenic tree canopy walk which includes 16 hanging bridges more than 40-60 feet in the air, soar through the trees on dual-racing zip lines, fly on the high-speed single rail mountain coaster; climb through the Anakeesta Treehouse Village playground or simply sit back and enjoy the breathtaking views of Mt. LeConte and the sparkling lights of Downtown Gatlinburg.
Activities and adventures
Zipline Adventures
With several
ziplines
in the area, you will definitely find a breathtaking thrill that suits your sense of adventure. Couple that with amazing views, and activities that keep the whole family happy - and you will have a day that you will remember for years to come.
White Water Rafting
The Big Pigeon and several other regional rivers are minutes away, and local
rafting
outfitters can help you book an expedition and make sure you get all the gear you need. There is a whitewater thrill waiting for you whether you are 5 or 85 years of age. A great summertime activity for the family and groups of friends.
Horseback Riding
Want to have a family outing the kids won't forget? Want everyone in your group to do a new activity together, or just a chance to try horseback riding in Gatlinburg and Pigeon Forge? There are several stables in the area, located just a short drive from Pigeon Forge, Gatlinburg, and our cabins. Choose one to visit and enjoy the whole experience: the scenic views, the wildlife, the beautiful horses, and spending time together, surrounded by nature. In addition to horseback riding, some stables offer additional family-friendly activities.
Scenic drives
Foothills Parkway – the most scenic drive!
Originally approved by Congress in 1944, the Foothills Parkway was envisioned as a 72-mile route from Chilhowee Lake to Cosby. In the late 1960s, portions of the Foothills Parkway were completed: a 17- mile section between US 129 and Walland, and on the eastern end, a 5.5-mile section connecting Cosby with Interstate 40. Keep Reading
Roaring Fork Motor Nature Trail - A scenic drive in the Smokies
While many visitors to the Smoky Mountains know and love driving the Cades Cove loop, there's another motor nature trail that's worth exploring, the Roaring Fork Motor Nature Trail. Located just minutes from Gatlinburg, this beautiful scenic drive is full of history and exciting sights to see! Keep Reading
National Park
Cades Cove - wildlife and historic places
Cades Cove is a broad, verdant valley surrounded by mountains and is one of the most popular destinations in the Great Smokies. It offers some of the best opportunities for wildlife viewing in the park. Large numbers of white-tailed deer are frequently seen, and sightings of black bears, coyotes, groundhogs, turkeys, raccoons, skunks, and other animals are also possible. An 11-mile, one-way loop road circles the cove, offering motorists the opportunity to sightsee at a leisurely pace. Stop and visit the historic structures of the early settlers. Vehicle-free access along the Cades Cove Loop Road takes place each Wednesday, from May 3 through September 27, 2023. Traffic is heavy during the tourist season in summer and fall and on weekends year-round.
Clingmans Dome
(6,643 ft) is the highest point in the Great Smoky Mountains National Park. It is the highest point in Tennessee and the third-highest mountain east of the Mississippi. The observation tower on the summit offers spectacular 360° views of the Smokies and beyond for visitors willing to climb the steep half-mile walk to the tower at the top. Temperatures at the dome can be 10-20 degrees Fahrenheit cooler than in the surrounding lowlands. The cool, wet conditions on Clingmans Dome's summit make the spruce-fir forest that grows there a coniferous rainforest. The 7 mile road leading to the tower is closed seasonally, typically from early December through late March, and whenever dangerous weather conditions require. A 0.5-mile paved but steep trail leads from the parking lot to the summit with an observation tower on top.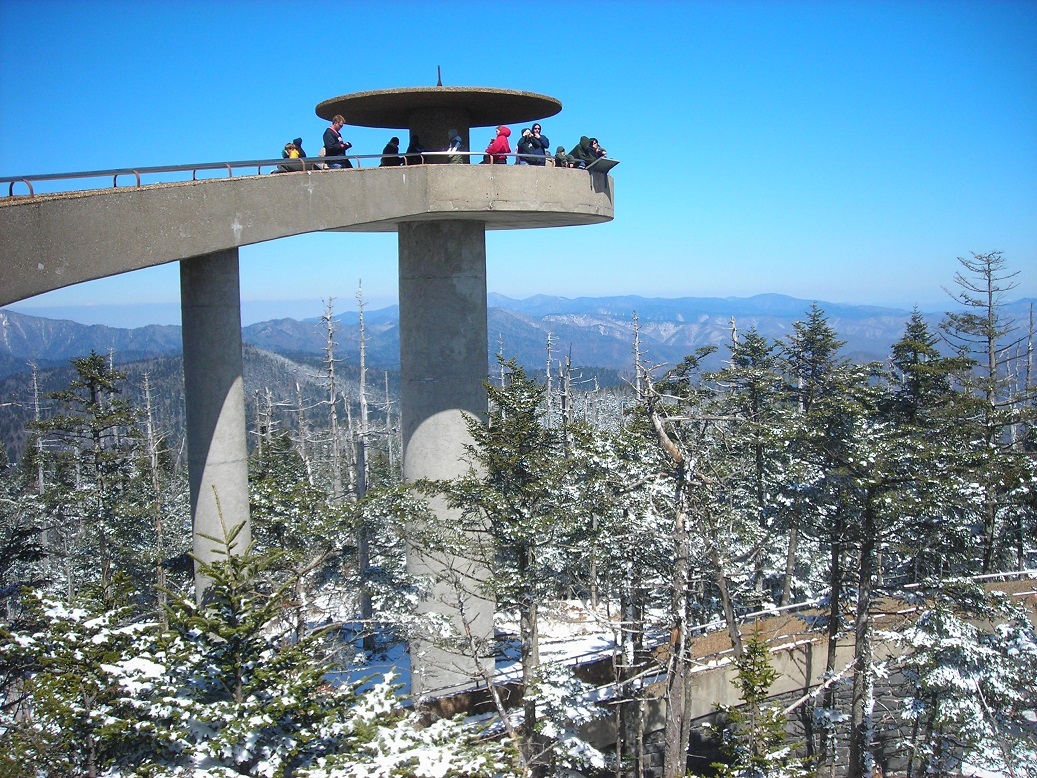 Gatlinburg
Arts and Crafts of Gatlinburg
On the way to or from our cabins, you will be driving through parts of the so-called
Arts and Crafts
Loop. This historic 8-mile loop has been designated a Tennessee Heritage Arts & Crafts Trail. Established in 1937, these artisans whittle, paint, sew, cast, weave, and carve to create original collectibles such as candles, baskets, quilts, brooms, pottery, jewelry, dolls, pottery, scrimshaw, silversmithing, leather, stained glass, wearable fashions, fine photography, frameable art, oils, watercolors, and also lodging, restaurants, cafés, tea room, soda fountain, and candy shops. Make plans to visit the Great Smoky Arts & Crafts Community. There are several Trolley stops along the loop, so you can park your vehicle and ride the Yellow trolley route (seasonal).
Gatlinburg is called the "gateway to the Smoky Mountains". Parkway is the main road running through downtown Gatlinburg. From one end of the Parkway to another, you'll find attractions and activities of every kind - from mini-golf and bumper cars to museums, restaurants, and distilleries. There is also a Space Needle, Ripley's Odditorium,
Anakeesta
, chairlift to Skypark, shopping, and Aerial Tram station for the
Ober Mountain
.